The Test of English as a Foreign Language (TOEFL) is the largest standardized test for non-native English speakers. More than 9,000 higher education institutions and agencies in 130 countries practice TOEFL scores as part of their application and admissions criteria.
This guide will showcase the TOEFL test structure, TOEFL Exam cost in India, and the registration process, and includes information on the scoring system, exam day expectations, and how to prepare for the test.
What Is the TOEFL?
The TOEFL called as Test of English as a Foreign Language is a test that evaluates individuals in the English language. TOEFL scores are used by universities as part of the admissions process. Those who want to master the language for academic purposes can take the TOEFL exam. As well aspirants who want to attend university or graduate school abroad can give this TOEFL exam in India.
Most reading passages in the TOEFL use for: –
Formal, academic language
High-level vocabulary rather than conversational English.
Exam Format of TOEFL exam
TOEFL exam in India is based on three major competencies
Reading comprehension and vocabulary
Structure and written expression
Listening comprehension
The TOEFL exam in India section divided into test sections
Reading
Writing
Listening
Speaking
What's on the Test – With scoring
As previously above we discussed The TOEFL test evaluates your ability to communicate in English with four sections: Reading, Listening, Speaking, and Writing.
In evaluating reading proficiency:
3–4 reading passages
10–12 questions per passage
Both questions should be completed within 54 to 72 minutes
Scoring points 0-30 points
In evaluating Listening proficiency:
3–4 lectures, each 6 questions
2–3 conversations, each 5 questions
Both questions should be completed within 41–57 min
Scoring points 0–30
Then after these two exams, there is a 10-minute break
Listening proficiency Question pattern
One open question
Three integrated tasks (including several aspects of information processing like an audio sequence or a text)
Have to complete 17 min
Scoring point is 0–30
In evaluating Writing proficiency:
One open task
One integrated task
Have to complete within 50 min
Scoring points 0–30
The whole total exam includes allowed in all sections. No points will be minus for incorrect answers. Overall, 3 hours with a scaling point of 0-120 points.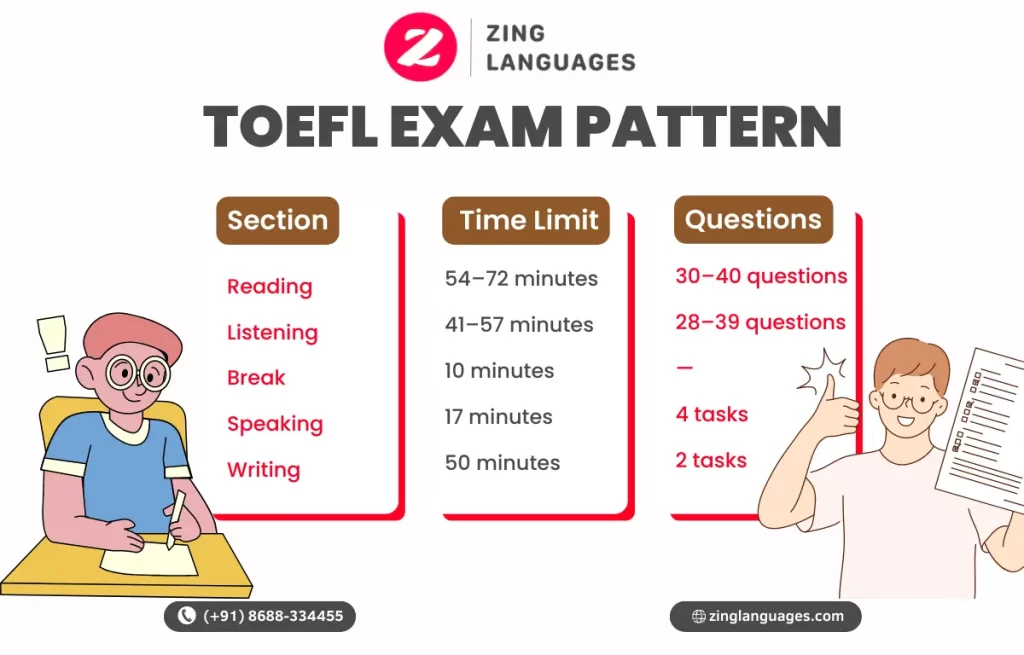 How do you want to Prepare for TOEFL Exam?
When you are planning to ace the exam for TOEFL exam in India you have to prepare for it smartly and dedicatedly. Here are some resources that can help you while preparing such as: –
1. Practice Tests
2. Guides and Books
3. Through online Practice Apps
4. Test preparation planner
Where and How Can anyone book the test?
You can give TOEFL exam in India in the following ways:-
1. In a Test Center
2. At Home
3. Paper Edition
Test center in India
Guwahati, Assam
Kolkata
Delhi
Mumbai
Pune
Ahmedabad
Chennai
Chandigarh
Allahabad
Dehradun
Kochi
Hyderabad
At-Home and paper edition Testing Requirements
You need to meet the Equipment and Environment Requirements for at-home testing & paper editions including to appear the TOEFL iBT Home Edition or Paper Edition. At-home testing is primarily available 24 hours a day, 4 days a week.
On the test day
The candidate is sure to reach at least 30 minutes before your test time to allow time for check-in. With a proper ID that matches all your credential given on the form.
TOEFL Eligibility criteria
There are no such eligibility criteria while giving the TOEFL exam in India.
A valid passport can register for TOEFL.
Register for the exam
Open an account with ETS and give all your detail. Visit the official site for TOEFL.
Then select the closest test center and then pick the slot.
Final steps, complete the registration by selecting the universities, where the scores to sent and pay the registration fee.
TOEFL cost in India
TOEFL cost in India include is USD (approx. INR 15, 112) for all versions of the exam except for the TOEFL essential test which has been set as INR 7,953.
Conclusion
This blog is the ultimate guide for the TOEFL exam including cost, Eligibility criteria, how one can book the test, the test center, registering process, etc. kindly read the blog carefully this blog can clarify all your doubts easily if you have any confusion regarding any all of those above criteria.
Read also IELTS Exam.