In the modern world, German is a prominent language of culture and business in the EU and beyond. There are about 229 million German speakers worldwide. This is the most widely spoken language of the EU and is also an official language in countries like Austria, Belgium, Germany, Switzerland, Poland, Italy, Liechtenstein, and Luxembourg.
Learning common phrases in German can sometimes be a daunting task. But when you enjoy learning it with curiosity or necessity, you can familiarize yourself with basic gestures by using proper grammar and pronunciation.
Why to Learn German Phrases?
1. Even if you are not fluent to conversate with native German speakers, learning common sentences in German gains you more appreciation as it shows respect besides making you get a huge outreach when you travel to the German-speaking countries. 
2. Your conversation in German will flow much smoother if you're able to simply respond with the appropriate phrases rather than flipping through your book.
3. As all Germans are not good at English, knowing common phrases in German can really come in handy if you are in a situation where you ought to communicate with someone who can only speak German.
Basic German Phrases
Learning a few common phrases in German and being able to use them is a great start. This will motivate you to learn and speak German fluently.
German Greetings and Introductions
If you want to make a good impression on German speakers, you will need these basic phrases to meet and greet people. These are very easy and simple to remember and will help you make new German friends.
Hallo – Hello.
Hallo, wie geht's? – Hello, how are you?
Vielen Dank – Thank you very much
Mein Name ist – My name is
Woher kommen Sie? – Where are you from?
Getting Out of Sticky Situations
It may seem a little intimidating to speak German, especially if you are new to the language. These phrases can help your conversation run smoothly if you don't understand something or require a little help.
Was bedeutet das? – What does that mean?
Es tut mir leid – I'm sorry.
In Ordnung – All right.
Ich weiß nicht – I don't know.
Macht nichts – Never mind.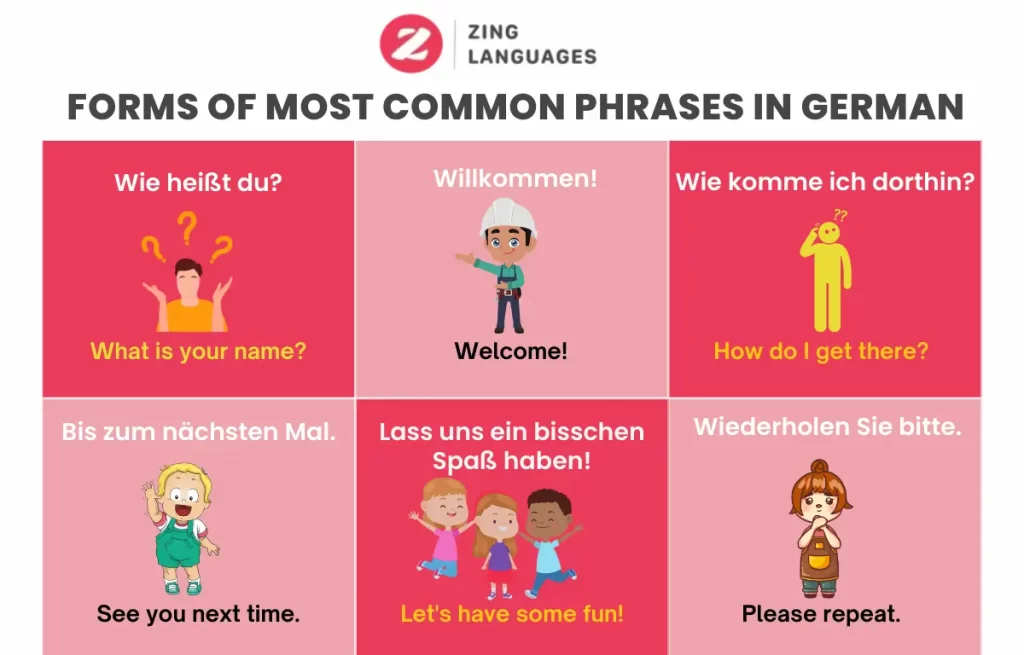 Visiting a German Restaurant
One of the most enjoyable experiences you can have in a German-speaking country is trying out some delicious local dishes at a German restaurant. These common phrases in German can be used for asking for a table to pay the bill.
Entschuldigung! – Excuse me!
Was ist das beliebteste Gericht? – What's your most popular dish?
Was ist das? – What is this?
Bringen Sie mir bitte eine Auswahl von leckeren Sachen – Please bring me a selection of delicious things.
Die Rechnung, bitte – The bill, please.
Transport – Getting Around in Germany
There is a lot to consider when you take a trip to Germany including finding your way around. These phrases will help you navigate your way around any German-speaking city or country.
Wann fährt der nächste Bus/ Zug nach _____? – What time is the next bus/train to __?
Was kostet das? – How much is it?
Wie lange dauert das? – How long does it take?
Wie spät ist es (jetzt)? – What time is it (now)?
Wo ist _____ auf der Karte? – Where is _____ on the map?
Shopping and Bargaining in German
If you are in a supermarket and want to grab things at a shopping center or if you want to bargain in German, you can use these common sentences in German.
Was kostet das? – How much is this?
Geben Sie mir einen Rabatt? – Can you give me a discount?
Ja, bitte – Yes, please.
Moment, bitte – Just a moment.
Nein, danke – No, thanks.
How to Learn Common German Phrases?
The best way to learn common phrases in German is to interact with German speakers but it is not always possible. So instead, you can choose other ways to pick up on useful phrases:
1. Watch television shows and music as it can be a great way to pick up the slang terms or idiosyncrasies of the language.
2. Take authentic German videos that natives would usually watch and use tools such as interactive subtitles, quizzes, and flashcards to boost your learning efficiency. 
3. Get the help of your experts from the German coaching institute and know more about the idioms or common phrases in German that are used on a daily basis.
4. Ensure to integrate these phrases into your daily conversations to get fluency while communicating in German. 
Conclusion                          
To conclude, if you want to learn advanced sentences beyond common phrases in German, you can approach the best German coaching institute like the Zing Languages. Here, a comprehensive and well-designed course plan is designed with experts who can help you get in-depth knowledge on the German language besides enhancing your communication skills.
Check out German Tongue Twisters.